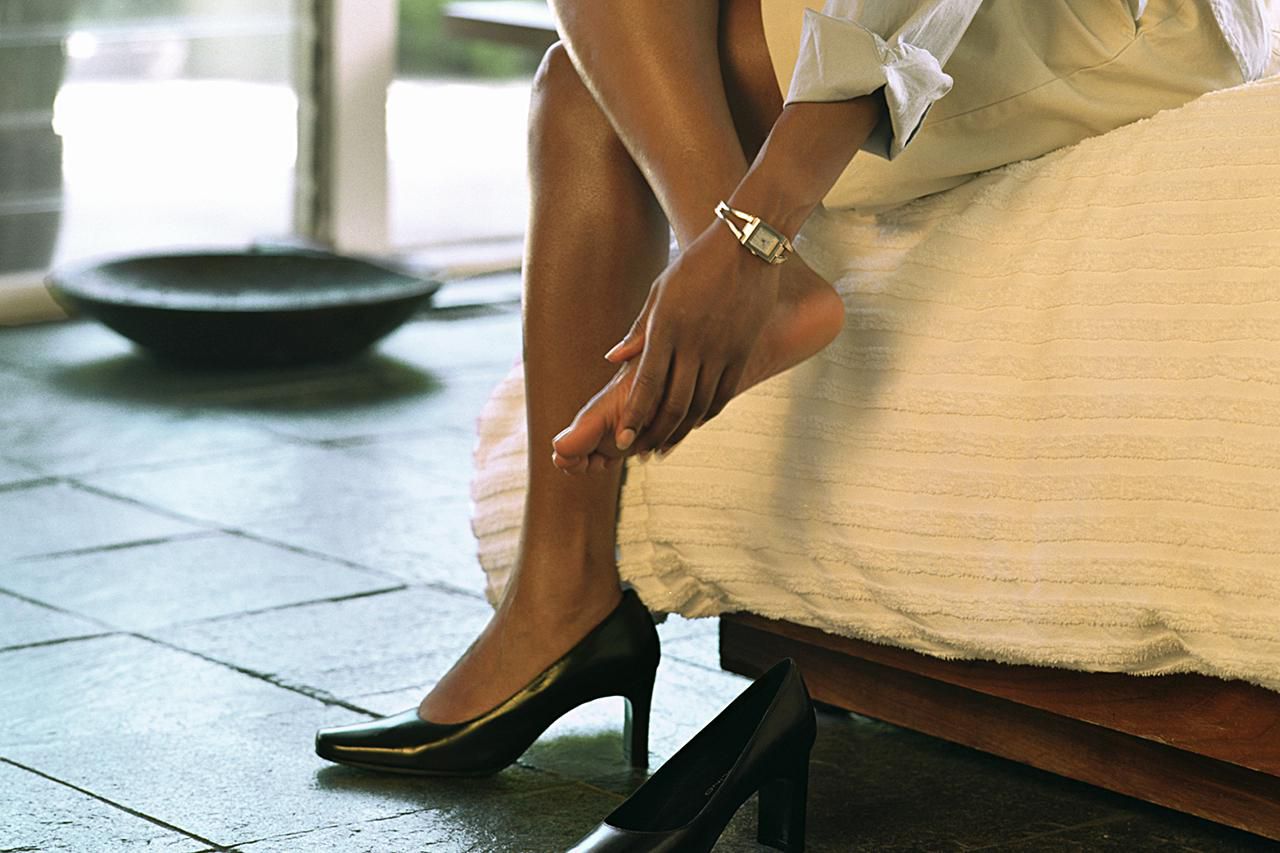 If you're a shoe lover like me, you should already figure out that getting the best shoe stretcher is something you do not know you need until you actually need it. There are lots of reasons why I can't live without my shoe care devices in my closet. Finding the next best fashionable shoes to fit right can be very hard at times, and I don't want my precious feet to hurt all day long wearing them.
I use them to prevent corn, blisters, and hammertoes from forming or merely to be comfortable while wearing my footwear. You can buy a shoe stretcher and do it yourself, without any problems. Buying a stretcher is cheaper than buying a new pair of shoes, and they usually last forever if you choose a quality product.
How to Use a Shoe Stretcher?
Using a shoe stretcher tool is an effective and inexpensive way to get your shoes fitting right. In essence, a shoe or boot stretcher is inserted into your desired footwear and is then safely and quickly stretched to free up extra space. This device is an excellent solution for corn, hammertoes, bunions, or other progressive foot ailments.
My Best Shoe Stretchers, 9 Reasons Why I Can't Live Without Them
When my feet swell up
When it rain or snow and my shoe shrink
To break in my new shoes where it pinches my feet.
My foot imperfections like corn and bunions
To prevent hammertoe, corn, and blisters.
To get the crease out of my shoes or boots.
Get moisture out of my shoes after I wear them.
When I find that perfect boot and the calf area is too small and needs  stretching a little
An extra pair of hands while doing shoe care
Shoe stretchers will help alleviate several of these problems above and provide more comfortable shoes or boots. We will discuss later why they are so good.
Below you will find some of my favorite devices. You may need more than one stretcher because they all serve different purposes.
My Best Shoe Stretcher picks of 2022
COBBLER'S BEST Pick Two-Way Shoe Stretcher is only $39.95 
This stretcher is made up of premium beech wood. It can be used to stretch both the length and width of left or right shoes. Pressure relief pads/spots are included to extend targeted areas to keep from blisters, corns, or bunions.
Received 4.9 stars out of 5 in customer reviews
Best Features of this 2-way Stretcher
It can be used for sandals, casual shoes, fashion sneakers, flats, wedges, leather shoes, etc.
A usage, Helps with tight shoes or blisters, bunions, calluses, corns, hammertoes, overlapping toes, toe pain, and pinched toes.
Just insert the shoe stretcher into the shoes and rotate the black handle and crank handle to stretch. We recommend using a shoe stretch spray along with your stretching device for fast but gentle stretching; leave in for 24-48 hours for best fit.
The Best One-Way Shoe Stretcher and Stretch Spray Combo go for $35.45 on Amazon.
Many people rely on a professional to fix them with the right shoe care supplies when it comes to shoes. Why should they? The professional has the right equipment to repair your shoes, which makes them more comfortable to wear. Besides, they can make your shoes shine more. If you think that only they can do these tricks, then you are wrong. With the right equipment, you will be able to take care of your shoes yourself, and you will not need a helping hand.
Received 4.9 stars out of 5 in customer reviews
Best Features of this Wooden Stretcher and Spray Combo Kit
This stretcher concentrates on the shoe's width and eliminates the corn problem you get from the footwear.
It comes with spray, which helps the shoes to get softened up so that the stretchers can work accordingly.
This device will help the shoe to fit your feet rightly.
COBBLER'S BEST Pick 1-Way Stretcher Pick

is only $29.95
This device will transform any pair of tightly fitted shoes into the perfect fitting, comfortable shoes. It will help you with many foot problems and with foot pain caused by tight shoes.
Received 4.8 stars out of 5 in customer reviews
Best Features of this One-way Stretcher
Stretcher stretches only the width of shoes. It can be used for both right and left shoes.

Three removable pressure relief plugs

Unisex size suitable for both women and men

Made of wood and metal parts only

Included: 1 piece device
Cedar Shoe Trees – Pair of Men's and Women's Split Toe Shoe Trees

goes for $22.99
Keep shoes looking new and smelling good with these shoe trees! Premium Tennessee cedar wood that retains shoes keeping great.
Unique slider-plate adjustable split-toe design for ideal width match. The picture above is offered in men's sizes only. But the ones I like most are these Elements Women's Cedar Shoe Tree. Choose from a size Small to XXL. Keep the original form of your shoes by incorporating these cedar trees when not in use.
Cast Iron Ball & Ring Bunion Shoe Stretcher Spot Stretching Device

is only $44.95
Best features of this Bunion Stretcher
This device was designed to handle certain regions of the shoe that need relief. Having a bunion stretching tool used by the experts is a good thing; heavy-duty cast-iron makes for a durable, quality instrument.
Bunions, corns, hammertoes, and foot-related stress points. Use the clamp to stretch certain areas overnight.
Received 4.8 stars out of 5 in customer reviews
My favorite High Heel Shoe Stretchers with Stretch Spray

go for $49.95

 
If you've ever given up hope on a set of heels since they were tight onto your feet, you want these!  These are great, excellent shoe stretchers; they appear to be lasting and operate wonderfully.
I won't ever attempt to 'break in' a tight set of heels again—a need for shoe lovers like me.
Best features of these High Heel Shoe Stretchers
The Shoe Stretcher Set contains 2 High Heel Shoe Stretchers plus a 4 ounces Shoe Stretch Spray.
They work best on 3″-6″ heels, made especially for 3″ – 6″ high heels shoes.
The Liquid Stretcher Spray contains 4 oz, which is good for many use.
Solid Construction they are made up of premium polished beech timber and stainless steel mechanics.
Received 4.6 stars out of 5 in customer reviews
Best Shoe Stretch Spray
It is one of my best finds. I have been using this shoe stretch spray for over 2 1/2 years now, and it works every time. This shoe stretch spray is a miracle waiting to happen – For leather, suede, or nubuck shoes – Stretches shoes in the tight spots where they grab the most. Expands treated areas without weakening the leather. Will not harm skin or stockings.
Received 4.6 stars out of 5 in customer reviews
Best features of this Best Shoe Stretcher Spray
Loosen tight shoes and boots

Use alone or with shoe stretchers and shapers

Easy use 4-ounce pump spray 
When my feet swell up, I use my one-way shoe stretcher to give me more room in width.
Waking up to a swollen foot can sometimes be a widespread problem. Having a lot of salt in your diet the day before can be one reason for a slightly bigger foot the next morning. Also, being on your feet all day can make feet swell up as well.
When it rain or snow and my shoe shrinks
While I try not to wear suede shoes in the rain, you can not help it if you get caught in a downpour. There are ways to extend your suede sneakers as soon as they dry. They will not get ruined in the rain for those who own a shoe stretcher. Just let them dry correctly, then place your two-way device inside and turn the knob till it is snug. I usually wait 24 hours after this process before I wear them again.
To break in my new shoes where it pinches my toes.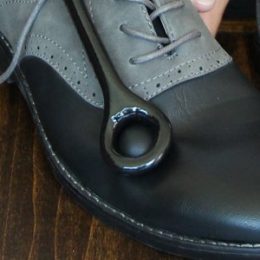 Breaking in new shoes can be a bit harsh on your feet, but many of the typical blisters and pinching can be avoided if you know where to look. Your heels and pinky toe are evident spots, but other common areas include the tops and sides of your toes. If you are not sure quite where your problem spots will be, walk around your home for an hour or so, and you will certainly figure it out. A bunion stretcher is ideal for the toe area, and a 2-way spreader will help with the heel area.
My foot imperfections like corn and bunions
I sometimes have difficulty with corns and calluses developing in the same manner, but the outcome differs occasionally. Poorly fitting shoes are a frequent cause of both corns and calluses. They can also form when you've got a kind of foot deformity.
To prevent hammertoe, corn, and blisters.
To prevent hammertoe, you'll have to wear shoes that fit your feet properly. If you don't need to have surgery to restore your hammertoe, I propose appropriate shoes that are created with a broader and deeper toe box to accommodate your foot shape or keep a 1-way shoe stretcher that comes with bunion knobs in your closet to elongate your shoes wider when needed.
How do I get creases out of my shoes or boots?
When my shoes develop creases or wrinkles that are observable, they can diminish my enjoyment of wearing them. I use this technique to remove the lines. Put your wooden shoe stretcher inside your shoe and turn the knob until it's tight. This technique will maintain the shape of the shoe, which may counteract the crease. Leave the shoe expander in the footwear for three or more days to get rid of the wrinkles and retrain the leather form.
How do I keep my leather shoes from wrinkling?
This process is one of my favorite thing to do. Whenever I come home from a long day out, I place my wooden shoe tree in my shoes as soon as I take them off. To absorb moisture and help them maintain their shape are the main reason. Placing your cedar shoe tree inside your shoe when you are not wearing them is the most important thing you can do to keep your footwear from creasing.
How do I get the moisture out of my shoes after I wear them?
Another fantastic shoe apparatus in my closet is my cedar shoe tree extender. The reason for using cedar shoe trees in any of my shoes is that my feet sweat. That moisture accumulates in the lining of my sneakers, which not only makes them uncomfortable; it may also accelerate the deterioration of the leather. Cedar shoe trees can help absorb that moisture, and additionally, it makes the shoe smells excellent afterward.
When I find that perfect boot on sale and the calf area is a little too small
Using a

Boot Shaft Stretcher

is among the easiest and most painless processes to extend your boot's calf area.
The shaft stretcher will be a worthy investment if you often have problems with boots that fit badly around your calves like me. Not only will is it the simplest way to extend a boot calf, but it is going to save you money from having to go to a cobbler with this service—cobblers charge anywhere from $45 to $65 to get the job done correctly.
An extra pair of hands while shining
An additional pair of hands when required. When polishing or buffing your shoes, the wooden shoe stretcher gives it a firm inside to correctly get the job done. It's not just great to take out crease from the footwear while shining but also helps preserve the glow. Integrating one into the shoe you are working on. It is going to be held in shape while you're shining. This will help the process much more manageable.