Benefit of using a shoe stretching kit for the best fit for shoes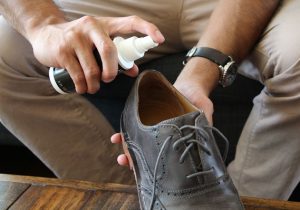 Is your shoe is creating trouble for your legs? Well. Sometimes the new bought shoes do not well fit and causes pain. In that case, shoe stretching kit can help you.
People usually do not use the unfit shoe, or sometimes they give them to others. This shoe stretcher solves the entire problem regarding it.
The reason for buying a shoe stretcher
A shoe stretcher is an essential tool for controlling the shoes for your comfort. There are various kits which are used to stretch the particular area of a shoe, and your feet will adjust properly in the shoe. Sometimes shoe gets shrink after washing it or getting old. In that case, shoe stretcher kit work eventually and this is a very beneficial item for you.
Several reasons are there for buying a shoe stretcher in your place. All are given below.
As your feet grow, shoes become unfit for your leg.
The leather of the old shoes is got shrink and cause problem.
Sometime both of your feet might not be equal size; in that case, it helps.
There are several stretching kits which are useful for the people having an issue with a shoe. The stretcher can stretch shoes both in widthwise and lengthwise.
In the below section, there are some popular stretching kits for both men and women
Marz men's and woman's 2-way plastic shoe stretching kit is one of the most popular shoe stretchers on the market. It has a unique design with a long shaft for controlling it. This kit is useful for both right and left pair shoes.
Main features
Made of polyurethane plastic and the shaft is steel made.
Silver handle for stretcher control
Black wheel for length stretch process
Corn piece for enlarging the toe section
PROS
The kit can be used in both male and female shoes.
There are different sizes of stretchers for better pressure relief.
Shaft turning is easy and simple for width and length control.
The single stretcher can be used for both pairs.
CONS
The shaft breaks in high pressure.
Sometimes wrong size issue occurs
This shoe stretching kit is not only useful for the boot but also useful for the item made of leather like gloves and much more.
Main features
This shoe spray is made for all kind of shoes specially lather.
It releases the stiff part of shoes and clears the space by releasing the leather fibers.
It can help to stretch small area of shoes like sandals, boots, high heel shoes.
Use the spray until the area is fully fit for you.
PROS
You can spray this both inside and outside of shoes
Does not affect the color of the shoe
The chemical of the shoe is non-staining. Therefore it doesn't affect shoes.
It helps to soften and break in shoes.
CONS
Only stretches the small area of shoes. It does not stretch much longer.
Only small adjustment is possible with it. 
Footfitter Premium Professional Shoe stretching kit is consisting of two items in one package. If you have less time to stretch your shoes, then you need both stretchers and spray for the quick stretching process. Both these items help to release the pressure point by giving extra space in the stiff or new shoes which are unfit in your feet.
Main features
In the stretcher, the shaft is made of stainless steel, and the toe blocks are made of German Beech Wood.
This single stretcher can be used in both left and right shoes.
The spray is made of a chemical compound which is used to spread the fibers.
PROS
It is available for both men's and women's size of shoes.
The extended rod is there to control from the top
The spray can be used on materials like nubuck, leather, suede and much more materials.
There is plug piece for spot relief options.
CONS
It is not useful for western shoes.
The stretcher is only width expansion.
The spray is for very small enlargement. 
You can stretch shoe with this stretcher and also useful for the different sized shoes. This kit includes a spray for softening the leather of a shoe. There is a small shaft in the stretcher for expanding it. This can stretch both left and right shoes.
Main features
The stretcher includes a spray for better fittings of the shoe.
The stretchers are in different size in the market. S for 4.5-6, M for 6.5 to 8, L for 8.5 to 9.5.
There are metal plugs for the spot tight removal.
PROS
One stretcher is enough for both pairs.
Both stretcher and leather help in enlarging the shoes.
Spot expansion is easy with plugs
CONS
It is the perfect item for stretching the shoes of you. 2 stretcher for both left and right pairs and which can stretch the shoes both in lengthwise and widthwise. A spray bottle is included for better shoe stretching.
Main features
The heal and toe part of the stretcher is made of German Beech Wood
The controlling rod is made of stainless steel.
There are 16 holes for proper stretching.
PROS
It can stretch both length and width
6 corn plugs for better spot relaxing
CONS
It is not useful for boot and casual shoes.
This is specially designed for the high heel shoes. This is a very useful item, especially for a woman. The stretcher and the spray are in a combo set.
Main features
Toe part is made of German Beech Wood
The handle is stainless steel made
There are bunion plugs for enlargement in tight place
PROS
The spray is included for better expansion of different materials.
One stretcher is for both pairs.
CONS
Only for high heel shoes.
So, there is the brief description of shoe stretching kit. All the stretchers are in different size and shape, and corn plugged included. You need to buy the stretcher according to your shoe. Some of them stretch length; some of them are width and heel. So, before buying a stretcher, please review your shoes well.