Shoe horn has been around for decades. Probably from the time shoes were invented. The simple device is used to keep you and your shoes in perfect harmony. There are times when you buy a pair of footwear and because of the style or fitting, it gets a little difficult to put on, or they shrink when not in use. At this time, you cannot just throw away your favorite pair of shoes. A sturdy shoehorn helps incorrect fitting of your shoes.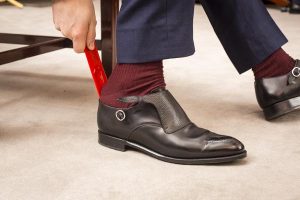 The shoe horns are used by a number of people who find it difficult to fit in the shoes properly. In order to increase the durability and longevity of the shoes, people generally use this elongated instrument that helps in gently put on and take off the shoes.
Why should you use shoe horn?
People usually lace up their shoes one time and then try pulling off the shoes while opening them. However, they find difficulties while wearing them back. Thus, they use a shoe horn to wear the shoes back without undoing the laces.
The durability of the shoes completely depends on how it is maintained. If you are wearing them by ruining the edge of the heels, your shoes will not last long. Thus you need a shoe horn to maintain your shoes.
How to use a shoehorn?
Using the magical instrument is very simple and easy. No matter what type of shoes you are wearing, you can use the shoe horn to adjust the fittings of your shoes. Here is how to use the shoehorns;
Place the horn against the counter back of the shoes.
Insert your feet in the shoe while resting your heels in the shoe horn.
The slippery exterior will help you slide down your heels inside the shoes.
Remove the shoehorn from the counter back of the shoe.
Since the back counter of the shoes is soft, they tend to get damaged if you try wearing them forcefully. When you do not use a shoe horn, you may eventually break the heel support and heel counter.
The shoe horns help to slide in your feet smoothly and thus prevents from spoiling your favourite pair of shoes.
The shoe horns are available in various shapes and sizes. They maintain the integrity of the shoe and help them last longer. Since you do not force wear the shoes, they do not tear from the edges. People who purchase expensive footwear must own this instrument to maintain the durability and visual standards of the high-end shoes.
About shoehorn
Earlier shoe horn was made up of horns and body parts of the animals. Nowadays they are available in various forms and made out of different materials. You can find the below types of footwear horn on the market
Plastic
Wooden
Paper
Glass
Metal
Some of the shoehorns are highly expensive and classy. Few people love to buy these specially designed shoehorns;
Who is most benefited with shoe horn?
Many times you will find the heels or the counter back of the shoes withered or torn. This happens when the shoe wearer forcibly tries to put in the shoes without inserting any help. Forcibly wearing the shoes damages them to the extent that it cannot be repaired.
Nowadays, people love buying exclusive shoes from high-end stores. Since they are expensive, you just cannot wear them forcibly and damage the footwear. Shoe horn helps you in maintaining the longevity of the shoes by helping you in sliding down the shoes.
Shoe horns are also beneficial for people of the following types;
Aged people suffering from arthritis
Pregnant ladies who cannot bend
People with obesity and respiratory problems
Those who suffer from spondolysis or back injuries
Physically disable people
Types of shoehorn
Speciality shoe horn
Some people love to own shoe horn that is expensive and made out of precious material like ivory, shell, nickel, or animal skull. They are rare and expensive. If you want to buy a luxury shoe horn that carries a wooden eagle head or golf club head, then you can search the top makers of shoe horn in the market. They are available online as well. The length of a standard speciality shoe horn is 21" approx. it is an ultimate tool for your convenience and comfort.
Extra-long handled shoe horn – good for seniors and people who can't bend over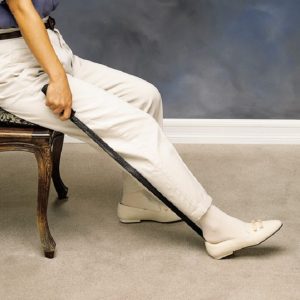 The extra-long handled shoe horn is specially designed for disables and people cannot bend over to adjust the fittings f the shoes. Many old age people suffer from arthritis and are wheelchair bound. Wearing and adjusting the comfort of the shoes can be a demanding job that is not possible for them.
In many cases, heart and respiratory problems also play a major role in disability of wearing the shoes on their own. The extra-long-handled shoe horn helps the people with major physical limitations.
These shoe horns are adjustable from 16 inches to 31 inches for an extensive reach.
Long handled shoe horn
The long handled shoe horn makes it easier to wear any type of shoes.  Although the long handled shoe horns are specifically designed for seniors who cannot bend, people with obesity and respiratory problems can also use this instrument.
The long handled shoe horn is available in both metal and plastic. No matter whether you are using them while sitting or standing, these shoe horns are easily adjustable according to convenience.
When you are physically not competent to wear your shoes properly, you may use the long shoe horns for convenience and comfort.
Metal shoe horn
Most long shoe horns are made of metal to help people easily wear the shoes. People who are less flexible- due to pregnancy, obesity, senior people, physically disable, arthritis; struggle hard to wear the shoes. The metal shoe horn is the easiest solution for these people who can wear the footwears while standing.
The metal shoe horns are durable and last you for ages. Thus, although you may find them little expensive than the usual plastic or wooden ones; it is a onetime investment. The smoothness and sleekness of the design make them unparalleled to any other footwear horns.
Plastic shoe horn
The colourful plastic shoe horn comes in all shades and design. These footwear horns are lightweight and quite inexpensive in nature. Unlike the metal shoe horns, the plastic ones are weightless and do not involve any heavy weight lifting. Old or pregnant ladies, who are unable to carry heavy weight horns, can buy the plastic ones.
Some of the best brands are available with a lifetime warranty; however, the local ones may not give you such benefits.
Wood shoe horn
Wood shoe horns are simple, elegant and classy footwear adjusters, crafted for people who love classy things. It is a single length long shoe horn crafted out of wood which helps in adjusting the shoes without sitting. When you are all decked up with your exclusivity and do not want to bend or sit, wood shoe horns are the best companion to ease your struggle with shoes.
If you have a family history of craftsmanship, you can carve one wooden shoe horn by yourself as well. However, there is a variety of classic pieces available in the market as well.
Wood shoe horns are durable and elegant. They look beautiful and can be carried along while you are travelling.
Metal shoe horn VS Plastic Shoe Horn
Whether you buy a metal, plastic, wooden or any other shoe horn; all of them are different from each other with amazing benefits. The shoe horns protect your shoes from ruining and save you from lower body pain as well.
As discussed earlier, the metal and plastic shoe horns are different inbuilt and make but with special benefits. They are different from each other but equally beneficial for the users.
Features of plastic shoe horn
The plastic shoe horn is low on cost as compared to its counterparts. Although some of them are made of thick plastic frame, they are less expensive than many other shoe horns available in the market
The plastic shoe horn is available in a variety of snazzy colours and designs. You will get a lot of options to choose from.
These shoe horns are comparatively much lighter than the wooden or metallic ones. It is best suited for people who are prevented from lifting heavyweights such as pregnant ladies and senior people.
Unlike other materials, plastic horns are less sturdy and do not last long. Because of its non-durable nature, they are less expensive as well.
The horns made of other materials give full support while you try pushing your feet inside the shoes. However, the plastic ones do not give support and may break from between.
Metal or wooden shoe horns are not flexible in nature. Thus they are hard to use with stiff shoes. Plastic horns are more flexible and easy to fit inside a stiff or sturdy pair of shoes.
Features of metal shoe horns
No doubt, metal shoe horns are more durable and sturdy in nature. Buying one metallic shoe horn can last you generations.
The durable nature of the metal shoe horn makes it more demanding and expensive than its counterparts. Since the metal shoe horn lasts for generations, they may cost you some extra bucks over the plastic ones.
If you are using a long-handled metal shoe horn, the increased heft may become trouble for the senior people. The heavyweight shoe horns are a problem for pregnant ladies and people suffering from lower back pain as well.
The metallic horns are not flexible at all. Thus, it is difficult to use with stiff leather shoes or any shoes made of tough material.
Since the make and build of the metal horns are sturdy and stiff, they might be dangerous for small children. Some child may poke themselves with the metal rod and injure majorly. Thus it is advisable to keep them out of reach of children.
The metal horns are sleek designed and look classy when carried along while travelling. They do not look like just any other shoe rod. Some major brands have classy designs for the metal shoe lovers.
The metallic shoe horn is highly adjustable in nature up to 31". Thus, anybody can use them easily without sitting or bending. However, it is not the case in plastic counterparts.
Both metal and plastic ones are different in their built and usability. However, they have a different set of users as well. A good shoe horn is the one that lasts longer and has more usability than the ones made of any other materials.
Regardless of what you buy, when you don't have time to invest in wearing your footwear, you will definitely crush the counter. This will cause irreversible damage to your shoes as well.
This handy device made of whichever material is a boon to the modern generation. It has saved people from ruining their favourite pair of shoes.
Conclusion
A shoe horn is an elegant pair of instrument that helps you slip inside the footwear. In order to keep your footwear durable and maintain the longevity, it is advisable to use a shoe horn for both, while putting on and taking off. Whether you use a metal, plastic or wooden shoe horn, you must make it your routine in order to maintain your favorite pair of shoes.
Shoehorns that are made of long shafts have more usability than the ones which are short. For people who have a lot of physical trouble and avoid bending forward, find the long ones efficient in wearing the shoes.
The material of the shoe horns completely depends on your preference. Whether you want an expensive metal piece that lasts your generations or inexpensive plastic ones that may break anytime.
Some people love to handle classic pieces as well. Thus, you may prefer buying skull, ivory or shell made long shafts to flaunt. Although they are highly expensive, few people like it that way only.